Most retail investors love high-growth momentum stocks.
They especially love the popular FANG investments and next-generation technology companies.
You see, it's easy to get excited about these tech firms because media outlets are constantly gushing about consumer demand or user growth rates.
But that noise makes it very easy to miss a huge opportunity in a boring company that operates in the most important industry to our national security.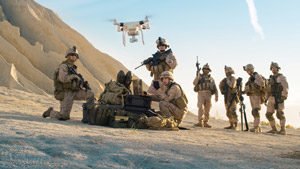 I'm talking about the defense stock that literally glues together our military structures.
These types of firms create the critical infrastructure necessary to bring next-generation technologies and systems to the masses.
And right now, a stock like that is sitting right in front of us.
The Best Defense Stock to Buy Right Now
Found in 1954, Park Aerospace Corp. (NYSE: PKE) develops and manufactures solution and hot-melt advanced composite materials for the international aerospace and military markets.
Yes, that's a fancy way of saying it manufactures glue (among other things) and lightning strike protection materials.
The reality is that it does so much more…
Park Aerospace's adhesives and composite materials are used in the production of military jets, unmanned aerial vehicles (drones), business jets, rockets, and other types of aircraft. But its biggest sales come from materials used to create jet engines (42% of its aerospace business unit).
It supports military hardware clients like AAE Aerospace, AAR Corp., GKN Aerospace, Middle River Aerostructure Systems, and Nordam Group.
PKE has also announced a few recent developments that signal stronger profitability and revenues in the future.
Recently, the firm's product adhesives were approved for use in the manufacturing of Kratos' Target Tactical Unmanned Aerial Systems. It also announced a major role in the development of record-setting jet engine orders from the June 2019 Paris Air Show.
The Financials Are Sound
Park Aerospace is forecasting robust growth in the months and years ahead.
The firm has set annual sales of $58.75 million to $60.75 million in fiscal 2020. That range balloons to $87 million to $99 million by 2023. The company also projects EBITDA of at least $12 million in 2020. It forecasts that this figure will double within three years.
PKE has a large net cash position on its balance sheet. As of Sept. 1, the firm had $145 million in cash and liquid securities and no long-term debt on its book. This figure suggests that the company could return more money to its investors in the form of dividends in the future. It's currently paying a 2.5% dividend.
But the most important number of all is PKE's VQScore.
Park Aerospace has a perfect VQScore of 4.9, signaling that this stock is about to take off like one of its client's rockets.
Right now, shares trade for roughly $16. But the firm's balance sheet and reliable dividend are likely to intrigue institutional investors in the months ahead.
After all, the stock trades at a ridiculously low price/earnings ratio of just 2.93.
Given its specialization in critical commercial and government businesses, I wouldn't be surprised if PKE became a takeover target in an era of low interest rates.
Based on the firm's financial projections, a jump past 52-week highs to $24 per share is probable in the year ahead.
That figure represents 50% upside from its current price. Full story at MoneyMorning.com
Trillions of tech dollars have been unreachable to the average investor. Now, that's about to change. Find out why